Nerdy Lasagna: Yoda OG, Mandalorian and Spaghetti Western Meatballs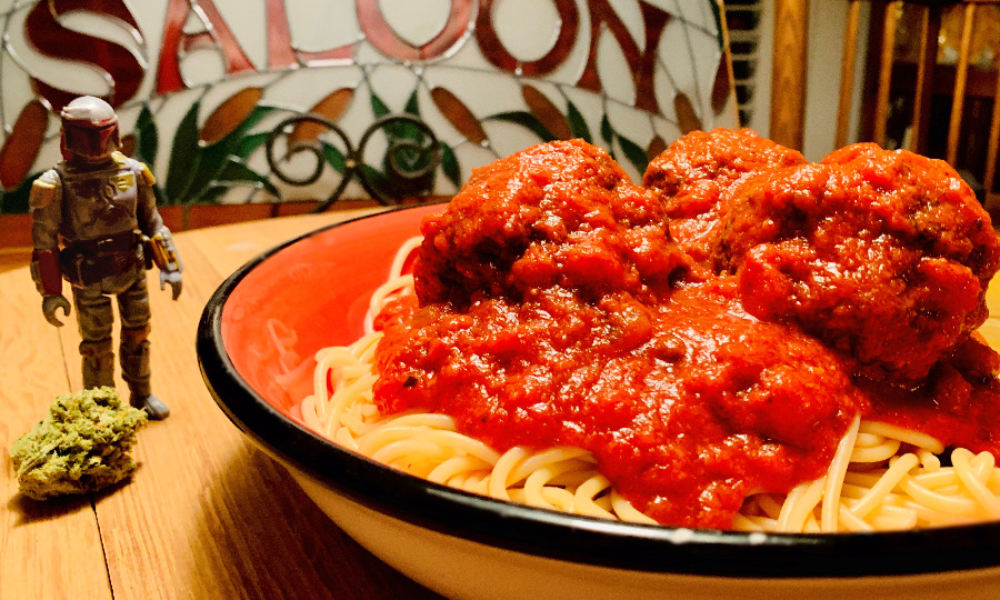 Disney Plus has arrived to great fanfare. The company was expecting 8 million subscribers by the end of this year. Instead, they got 10 million in a day. As stated in my last blog, the nostalgia factor in this channel is through the roof. I started out by watching Talespin, and the 90's X-Men and Spider-Man cartoons. My wife is watching Recess and Lizzie McGuire. Even my 16 year old niece has jumped on the nostalgia train and is watching shows she grew up with; The Suite Life On Deck, and Phineas and Ferb.
Gargoyles became the number one trending show on the first day of the streaming service's release.
Nostalgia has roped us all in, but Disney knows this will only go so far with people and their hard earned dollars. As a result, they also have a collection of original films and shows for our streaming pleasure. One show in particular has become the platform's breakout hit, and I think we all know why. That show is Baby Yoda…shit, I mean The Mandalorian. 
Disney is absolutely brilliant with their marketing. Let's ignore the fact that their new show, released weekly, will finish streaming by the time Episode 9: The Rise of Skywalker is out. Or the fact that they have a brand new Star Wars "Triple A" video game Jedi: Fallen Order out now to great reviews. Or having the whole saga of films and cartoons readily available to watch now. They are even advertising that George Lucas had a hand in the story of The Rise of Skywalker, which serves to pique the interest of a fraction of disgruntled Star Wars fans' eyes. Let's ignore all that, and simply look at my wife's experience with The Mandalorian for proof of the brilliance that is Disney marketing. 
My wife was a tough nut to crack when it came to Star Wars. She enjoys the films, but she would never watch one by herself or be frantically searching movie times to see a Star Wars film for a third time as she was with the latest Avengers flick. So as I was jumping up and down at the prospect of Star Wars' first live action series, my wife was looking for excuses to not watch it with me. 
It took some convincing, but I was able to get her to sit down and watch the first episode with me. Of course, I felt like a child playing with all of his old action figures again. I grew up with the original trilogy, so Star Wars to me was gunslingers – not so much sword fighting. The Mandalorian does not disappoint in this aspect. Jon Favreau's writing, and every one of Dave Filoni's shots – also his live-action directorial debut – were an ode to so many classic Spaghetti Westerns. As a result, I was in Star Wars heaven.
My wife however, not so much. She would glance up every now and then at the action. Sure, she chuckled at IG-11's self destructive attitude, but nothing was pulling her away from the latest news from TMZ on her phone. Suddenly it happened, my wife's phone dropped from her hand and her breathing became rapid as she witnesses the sight that broke the internet and all of our hearts. "What is it!?" My wife struggled to say, as she tried to catch her breath from what can only be described as a genuine cuteness overload. The reveal of "The Child" – or what the internet has named him, "Baby Yoda" – truly, instantly, and for all intents and purposes, captured my wife's heart, perhaps in a way I never could.
So the viewing got to continue, but while I was admiring Ludwig Göransson's score inspired by the western genre veteran Ennio Morricone, she was squealing every time Baby Yoda appeared on screen. As I marveled at the incredible cinematography from directors Rick Famuyiwa and Deborah Chow, she would proclaim "I want one!" whenever the Baby Yoda's presence would grace the screen. As I sat at the edge of my seat during shootouts between ruthless bounty hunters, my wife would fear for the Baby Yoda's life while loudly demanding the villains, the creators – and even Disney – to not cause any harm to him.
At one particular scene at the end of the second chapter, I remained jaw dropped in silence at the uplifting event which just occurred while she screamed, "Oh my God, he is all tuckered out from using the Force!" Which, by the way, is now one of the greatest sentences I have ever heard my wife speak. Suffice to say, Star Wars has won her heart and all it took was one adorable green Gizmo looking puppet. She is now the first to jump on a new episode every week, shouting "Cole! Baby Yoda is starting!" She even told me about how she fell into a black hole of Baby Yoda memes for way longer than she would have liked to admit.
Ya, Disney's marketing is on point. I honestly feel that there will be Hell to pay in my household if there is no plush Baby Yoda under our tree this year. 
My father passed away when I was very young. One of the few things I knew about him was that he was fascinated with cowboys, the old west, and Spaghetti Western films. Watching old westerns and knowing that these were my father's favorites, always made me feel close to him. So you could say Westerns were, and are, a big part of my life. Hell, my name Cole came from an old outlaw that was part of the Jessie James gang. I always held the fact that I was named after an outlaw as a source of pride…you know, if I ignore all the murderey aspects that come along with it.
The original trilogy of Star Wars films were very much inspired by the western genre. Cowboys in space if you will, and The Mandalorian doubles down on this, which creates a gritty yet unique setting and characters while still feeling right at home in the Star Wars Universe. 
Italian filmmaker Sergio Leone is looked at as the grandfather of the "Spaghetti Western". His 1964 film "A Fistfull of Dollars", starring Clint Eastwood was the first Italian-made western that had critical and financial success globally. This launched an explosion of Italian-made Westerns, due both to the great popularity and artists behind them, but they could be made on the dime and turn large profits. The similar landscapes between Italy and Spain with the Old West worked perfectly for production costs, not to mention the sets being able to be used for multiple movies – many of which still stand as Hollywood themed theme parks while others are still functioning in films to this day. I recommend checking out Christopher Frayling's Spaghetti westerns: cowboys and Europeans from Karl May to Sergio Leone if you wish to learn more. 
Basing a dish around the words "Spaghetti Western" proved more difficult than I originally thought it would. The Spaghetti part was obvious, but how do I approach a "western" pasta. Do I do some sort of bbq meat sauce? Perhaps a tex mex variation with a chili based sauce like Cincinnati Chili? I decided to consult the peanut gallery and ask my friends and family. "When I say the words Spaghetti Western as a food, what do you think of?" The overwhelming response was spaghetti and meatballs.
With the whole genre being called Spaghetti Western because of the incredible Italian filmmakers and artists that made these western films what they were, it felt right to do something more traditional to honor that. With the classic pasta in mind, the rest of the idea fell into place nicely. Having smoked and woody flavors be the focus of the dish creates a rustic taste which you would expect in a dish based on the life of Cowboys, and thus my Spaghetti Western Meatballs was born.    
For my cannabis pairing, I went with an obvious one that I admit was completely picked for its name. Come on, I talk about Baby Yoda for the majority of this blog, of course I am going to pick this strain. Yoda OG, the classic crowd pleasing Indica. Luckily for me, with its strong earth and wooden aromas the Yoda OG is a great match with the smokeyness of the Spaghetti Western meatballs. The citrus flavors the strain gives you when smoked, paired with the very strong hunger effects, make it the perfect before meal appetizer. Also, the effects of the Yoda OG last a long time, which is what you are looking for when marathoning The Mandalorian. Trust me when I say "This is the way."    
Food: Spaghetti Western Meatballs
This dish makes about 12 half cup sized meatballs. This smokey and woody sauce goes perfect with the "Western" style meatballs, but you can also try my Spicy Arrabbiata sauce from my previous blog. It too, would match these Meatballs to perfection.   
Prep Time:

30 min

Cook Time:

90 min +

Total Time:

120 min+
Course:

Main Course

Servings: 6 – 8
Ingredients
1 Package

Spaghetti Noodles

 

1 tablespoon

Salt
Meatballs:
2 pound

Ground Beef

 

½ Cup

Breadcrumbs

2

Eggs

¼ Cup

Parmesan

2 tablespoons minced

Fresh Basil

2 teaspoons

Smoked Paprika

½  teaspoon

Red Pepper Flakes

 

½  Tablespoon

Kosher Salt

3 small (or 2 large) minced cloves of

Garlic

 
Sauce:
3 tablespoon

Olive Oil

½ cup

Beef Broth

½ cup

Red Wine

 

2 can (28 once)

Crushed tomatoes

 

1 can (28 once)

Diced tomatoes

(No Salt Added)

2 large cloves

Garlic

 

1 tablespoon

Dried Basil 

½ teaspoon

Smoked Paprika

1 Small

Yellow Onion

diced

1 half

Red Pepper

 

½  teaspoon

Red Pepper Flakes

 

Worcestershire sauce

1/2 teaspoon

kosher salt
Black pepper

to taste
Instructions
Add all dry Meatball ingredients plus the basil and Garlic into a large mixing bowl and mix very well.

Add the meat and both eggs into the mixture. 

Using hands, mix very well. When thoroughly mixed, roll the meat mixture into ½ cup sized balls.

In a large dutch oven over medium-high heat, heat 2 tablespoons of olive oil.

Add meatballs and cook, turing when needed until golden brown.

Remove meatballs and set aside. Drain grease from pan and add 1 tablespoon of olive oil, and heat. 

Add onions, garlic, chili flakes, Salt and pepper. cook, stirring, for about a minute.  

Introduce Red Wine and reduce, making sure to scrape up any of the leftover brown bits from the meatballs. 

Add Beef broth, Diced tomatoes, Red Pepper, basil, paprika and a splash of Worcestershire sauce. Bring to boil.   

Add crushed tomatoes and bring to boil once more, stirring frequently.

Reduce heat to a simmer and transfer the meatballs to the sauce and cook for 1 hour, stirring occasionally. 

(In the last 10-15 mins of the sauce cooking) Bring salted water to a boil and cook pasta according to package instructions. 

Serve pasta in a large bowl, ladle a hefty amount of sauce and 2-3 meatballs per person. Sprinkle with parmesan, Serve and enjoy.
If you have yet to see The Mandalorian, please do. It is an exceptional and action packed television series, and at a run time of only 30 – 40 mins per episode, it is not a daunting task to take on amongst the slew of other streaming shows you most likely already have on the go. If you are a Star Wars fan and have been on the fence with anything new Lucasfilm has been offering, trust me when I say The Mandalorian scratches that Star Wars itch you have been craving. I also highly recommend the Yoda OG either right before your meal or right after. The short run time of the episodes will also benefit the hard crash the strain will eventually give you. Expect an early night with a full belly and a large grin that only a Baby Yoda can give you.