Cannabis Infused Wines are Hitting the Market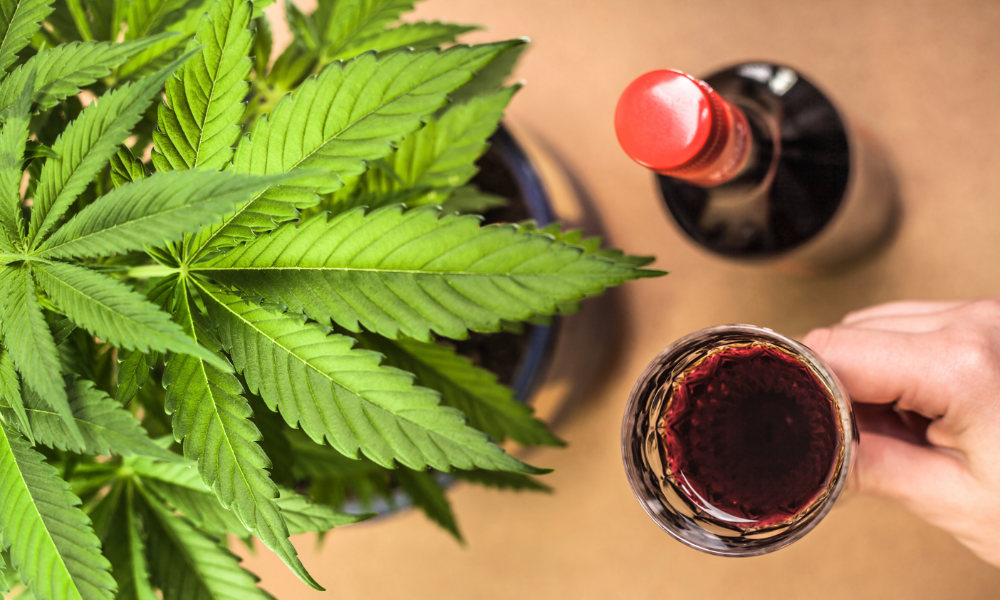 Weed is the new cool kid in town, and everyone wants to hang out. Cannabis is making its presence felt in a huge number of business sectors. Hemp and cannabis can be found in textiles, construction, medicine, cuisine and more! Now, the beverage industry is poised to become a massive player in cannabis business. We'll soon be seeing more and more drinks infused with tetrahydrocannabinol (THC) for individuals searching for a non-alcoholic buzz, and possibly more highlighting the therapeutic properties of cannabidiol (CBD) without getting consumers high.  
Cannabis infused wine is becoming more popular each day. Cannabis industry players are forming partnerships within the beverage industry to tap into this new opportunity. Some countries like Canada are seeing a surge in cannabis derivatives after legalization 2.0. Britain also reported that consumption of CBD products has increased, growing by over 200% in 2018. 
Interest from Wine Manufacturers
World leaders in the wine industry are showing interest in CBD infused wines. Constellation Brands invested over $3.5 billion in Canopy Growth Corporation in an attempt to take a stab at the industry. Apart from Constellation, other beverage industry players like Molson Coors Brewing have forged partnerships with cannabis companies to penetrate the market.
Constellation is renowned for its over 100 lines of wines, spirits, and beers. The most popular brands are Corona and Robert Mondavi. The company bought over 35% of Canopy Growth shares in a move seen as leverage for the dwindling fortunes in the beverage industry. According to WHO, alcohol consumption has decreased by over 5% since the start of the 21st century. 
Grey Areas on CBD Infused Wines
There has been some controversy surrounding the place of cannabis infused beverages. In most instances, winemakers focus on CBD rather than THC. CBD has no psychoactive effects unlike THC.  The non-alcoholic products are meant for individuals who want to enjoy the benefits of CBD without intoxication. 
Despite the difference between THC and CBD and their use in beverages, retailers are often hesitant to embrace cannabis-infused products. It remains a grey area because there are no clear regulations that govern the industry.
With all the buzz about cannabis infused wines, let's look at the top wine brands making an entry into the cannabis industry.
Rebel Coast Winery
Rebel Coast Winery has been in the wine business for years, and the company is venturing into marijuana infused wines. The Sauvignon Blanc is a non-alcoholic wine that contains THC. The beverage contains 20mg of the psychoactive compound in cannabis. The idea to remove alcohol is seen as a trick to make distribution of the wine legal and easy.
Currently, it is illegal to mix alcohol with THC. Cannabis infused Sauvignon Blanc can be distributed through cannabis dispensaries because it has 0% alcohol. However, the product cannot be distributed through wine and spirits outlets because it contains THC. The wine has low-calorie content compared to regular brands. At only 35 calories, it is one of the lowest levels in the industry. 
Cannawine
This is a Spanish brand that contains a 14.5% concentration of alcohol. The wine is infused with hemp derivative (CBD). This means that Cannawine does not have any psychoactive effects. The intense deep red wine has low amounts of THC which is not enough to get you high (less than 0.2%). The legal requirement for the amount of the compound is 0.3% maximum. The sweet and sugary wine is made from a mixture of Garnacha and Cariñana grapes from Spain. The manufacturer states that the beverage will help you improve your appetite while at the same time providing relaxation. 
Though the company claims to follow all the legal requirements, it might be difficult to get the product into the US market. Most states restrict the mixing of alcoholic drinks with cannabis extracts. Cannawine also faces distribution hurdles because it can't be sold through the regular wine distribution channels. Also, it is not allowed for distribution through cannabis dispensaries because it contains alcohol.
Saka Cannabis Wines
House of Saka launched its line of non-alcoholic cannabis infused wines. The female-focused company has stated that it is for women by women who seek relaxation through their luxury-infused products. The beverages contain both THC and CBD derived from organic craft hemp. The company released Still Rose and Sparkling Brut Rose as the initial brands into the market. 
In her statement when launching the beverages, House of Saka CEO Tracey Mason had this to say, "After almost 30 years of spearheading innovation in the adult beverage space and working with some of the most recognized wine and spirit brands in the world, I am confident that cannabis-infused products are the future." California is seen as the hub for cannabis infused beverages because of its receptive regulations. The two wine brands were first distributed in California and Nevada.  Sonoma County is home to several cannabis infused wine experiments because of its ability to produce both grapes and cannabis. 
Conclusion
There is still a lot to be done with cannabis infused drinks because of the variances in regulations between countries as well as states. Some countries prohibit the mixing of alcohol and cannabis which has held parts of the industry back. The restrictions surrounding the use of recreational marijuana (THC) even in countries where it is legal are being felt. 
It is expected that initial players could face financial losses as they test the waters. Cannabis is still making headway into many countries worldwide. Therefore, over time there will be more demand than supply once the industry is streamlined. The popular question on whether cannabis infused wine is here to stay has no clear answer as of yet, but Rome wasn't built in a day.