What's the Best Weed Strain for Sex? 5 top Marijuana Strains for intimacy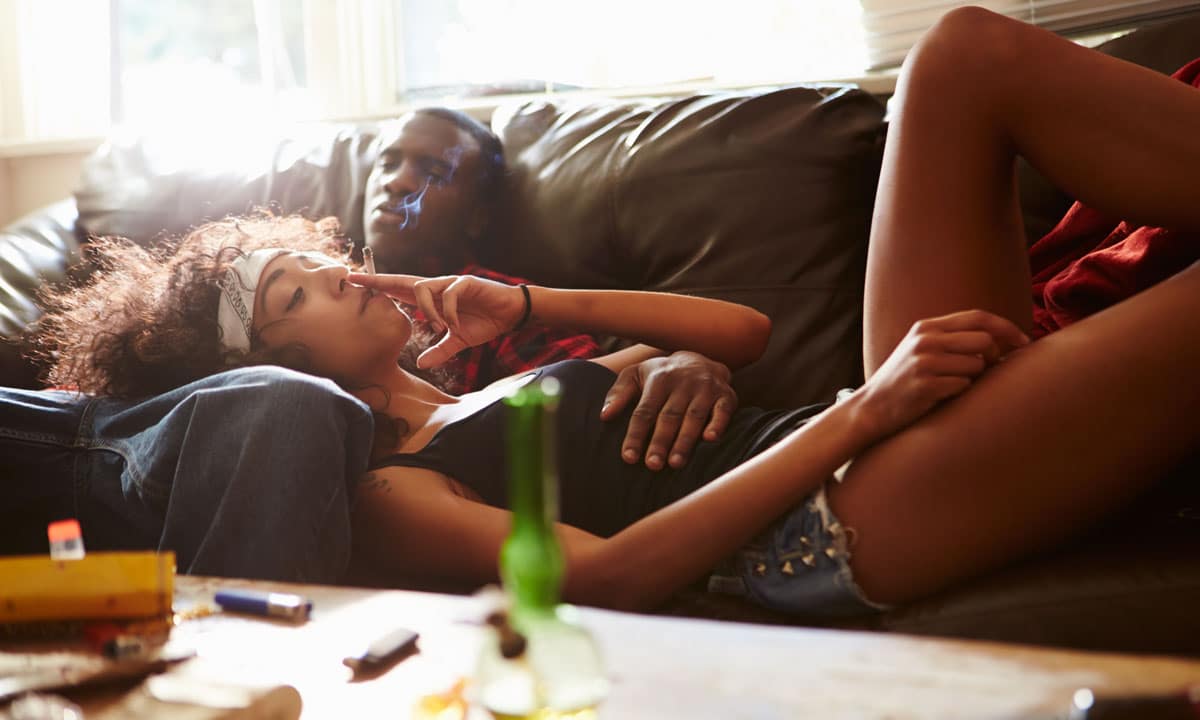 What's the best weed strain for sex?
Hey, that's a personal question! To be honest, it's a little tough to focus in on the best weed strain for sex. Everyone is different. Both in the way, they physiologically react to cannabis and in the way their mind desires pleasures.
This makes it really tough to pick a strain that would be good for all types of sex. So we decided to give you a bunch of the best weed strains for those intimate moments in your life.
If you're looking to spice up your sex life, these strains might be the ideal aphrodisiac for you!
Whether it's romantic, raunchy, or somewhere in between, sex can be many types of experiences. In this age of dating apps, things are changing within relationships. Meeting new people can be as easy as swiping on your phone. But, sex can also be uncomfortable, weird and cause anxiety. However, whether it's a one night stand or a long-term relationship, cannabis can create a whole new experience.
In fact, not only can it combat that anxious and stressful feeling but it helps to spice up your senses.
Here are 5 top Marijuana Strains for Sex
You could be a fan of Indica, or maybe Sativa, either way, lighting up a spliff with your partner can be a sexy experience. Many users and patients have found cannabis spices up their sex life and some strains can really turn you on! But what's the best weed strain for sex?
1. Sexxpot – Mr.Nice Guy x Pure Indica
Content – 100% Indica
Amount – THC 14%, CBD unknown, CBN unknown
Effects –  Creative, Euphoric, Focused, Happy, Relaxing
Flavors – Berry, Coffee, Nutty, Skunky, Sweet
Designed specifically to make women orgasm, this plant could easily be the best weed strain for sex. Seriously! People even call Sexxpot the cannabis female Viagra. Sexxpot is the brainchild of Karyn Wagner who created this after a night of sex. For that reason, this pure Indica strain was created to amplify the experience for both partners. This low-THC bud is an uplifting, happy and creates a euphoric head high. This is a favorite for giving tingly waves through the whole body and acting like an aphrodisiac. Nevertheless, Sexxpot is a hyper-focused strain enhances your senses and will make you more open to sexual experiences.
2. Love Potion –  G-13 X Columbian Gold
Content – 70% Indica, 30% Sativa
Amount – THC 15-18%, CBD 0.1-0.3%, CBN 0.1-0.5%
Effects – Aroused, Energizing, Euphoria, Uplifting
Flavors – Citrus, Herbal, Lemon, Spicy, Tangy
Love Potion or Love Potion #1 is a strain bred by Reeferman Seeds named for its ability to stimulate and arouse. This strain is a favorite amongst users for its abilities to increase sex drive and heightened the excitement. This won it a 2004 High Times' Cannabis Cup 1st Place winner. In fact, it is often referred to as the cure for any of your loving needs because of settling romantic moods. With a nice THC and high level of Indica percentage, this strain will leave you relaxed and uplifted. However, the sativa will spice that up into the sexiest feeling, leaving you horny as it solidifies itself on the charts as the best weed strain for sex.
3. Voodoo – Thai x Pure Sativa
Content – 100% Sativa
Amount – THC 8-26%, CBD 0.9-7.8%, CBN 0.01-0.1%
Effects – Creative, Euphoria, Focus, Happy, Sociable, Uplifting
Flavors – Berry, Citrus, Fruity, Herbal, Nutty, Pine, Spicy, Vanilla
Created in 1997, and widely regarded as the best weed strain for sex, Voodoo is a pure Sativa strain popularly used as an aphrodisiac. This weed is true to her name, casting an energy-boosting spell on you. In addition, this will leave you feeling energized, happy and aroused.  Users describe the Voodoo high as an immediate onset of a full head rush behind the eyes. In addition, this is followed by a euphoric head high that is accompanied by a warming tingling sensation. Voodoo is a great strain for nighttime sex and will make sure you sleep comfortably through your night.
4. Blue Cheese – Blueberry x UK Cheese
Content– 80% Indica, 20% Sativa
Amount – THC 15-20%, CBD 0.01-0.1%, CBN 0.01-0.2%
Effects – Creative, Euphoria, Happy, Hungry, Relaxing, Sleepy
Flavors – Blueberry, Cheesy, Creamy, Spicy, Sweet
A very fragrant and potent strain, Blue Cheese is an Indica dominant. The breeders of this herb remain unknown, but the effects are loved, among users. The original Cheese strain, which was first bred in the United Kingdom and is now used for heightening the sensual senses. In addition, this bud smells and taste delicious with some wine and grapes to add to the sexy experience. Nevertheless, this s not for the faint at heart, it is heavy and potent and will enhance the physical sexual experience between you and your partner.
5. Sour Dream
Content– 30% Indica, 70% Sativa
Amount – THC 15-17%. CBD 0.01-0.1%, CBN unknown
Effects –Creative, Energizing, Euphoria, Happy, Uplifting
Flavors –Diesel, Skunky, Sugary, Sweet, Tobacco
This popular herb was bred by Compassion Club and is popular among the smokers of East Coast, West Coast, and Southwest.  This tasty strain is a great aphrodisiac and helps with anxiety relief. In fact, it is a very peppy daytime sativa blend with relaxing Indica effects. Additionally, many patients love it for its pain-relieving effects which helps for a less painful sexual experience. It may be used before or after sex for just as great effects.
Here are different points of views of porn stars about "Marijuana and Sex"
Still looking for the best weed strain for sex? Go smoke some and figure it out.